Text/HTML Question Type is a non-graded text area that is used only for indicating the user and not designed for expecting any response for the user.
It is used just for indication purposes and to guide the user. To create one, you can head to the Quizzes/Surveys section on the sidebar. Once in, create a new quiz/survey by clicking on "Add New"

Type any name as you wish, I'm going to name it as "Text HTML" and press "Create." This creates a new post with your given name. Hover the cursor on the newly created post and press "Edit".
This opens up a window with multiple Tabs. With the first being, Questions Tab. Click "Create New Page" and then "Create New Question".
Choose the Question Type as "Text/HTML Section" from the drop-down list. I'm going to create a notice for an ongoing test, so I'm selecting Text/HTML as my question type and writing down my question in the below text-box.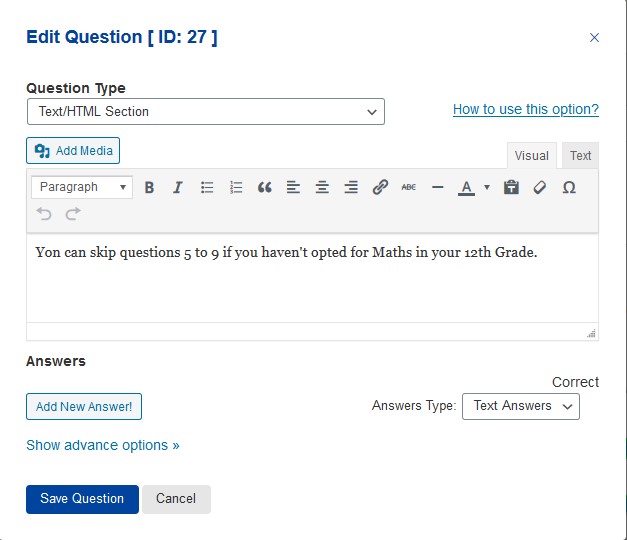 After writing the question, hit the "Save Question" Button. As no advance options are applicable to this question type.

Feel free to check out various customizations options by visiting all the tabs.
This was all about the Text/HTML Section Question Type in QSM. Do visit the QSM documentation for more information on the plugin.