The Summary Emails Addon allows you to receive emails that contain a summary of all the results over the course of a day or a week.
Installation/Setup
Once you have purchased the addon, you will have access to download the addon. To install, simply upload the addon as a normal WordPress plugin. To do so, go to the Plugins page and click Add New. Then, click Upload. From there, upload the zip file that you downloaded when downloading the addon. Once the addon has uploaded, you should now have the plugin QSM – Summary Emails listed in your list of plugins. Activate that plugin. Once activated, the addon will add a new tab in the Addon Settings:
Simply enter in your license key from your account and then click "Save Changes".
Settings/Configure
Once you have your license key entered, you can then edit any of your quizzes and surveys to set up your summary emails. First, edit your quiz and survey. Then, go to the new "Summary Emails" tab.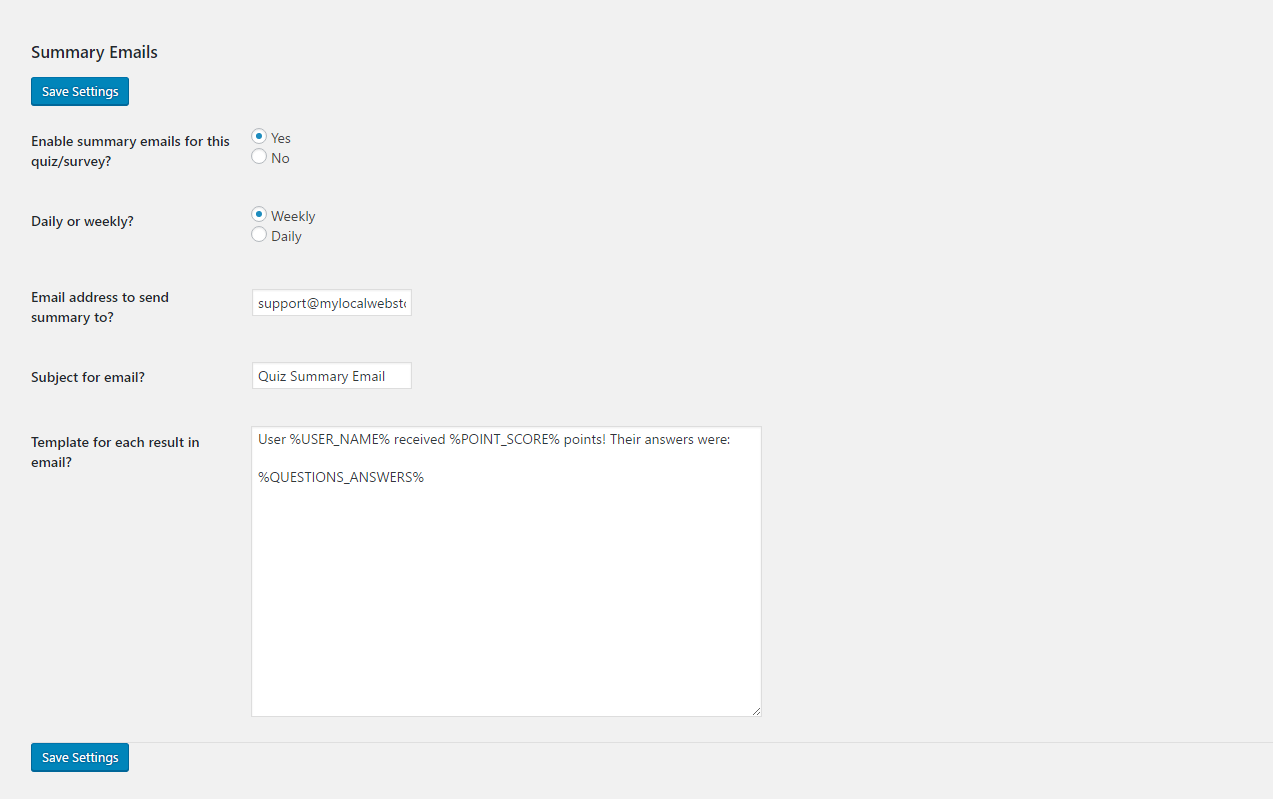 First, you will want to set the "Enable summary emails for this quiz/survey?" option to "Yes" if you are using the addon on your quiz or survey.
Then, set the addon to email daily or weekly using the "Daily or weekly?" option.
Next, set the email address you want the email to be sent to and customize the subject.
Lastly, you can customize the template used for each individual result. You can use any of the variables you can normally use when editing the admin emails. Once you are finished, simply click "Save Settings" and you are good to go!
If you have any trouble implementing the Certificate or have more questions about the process, please fill out a support ticket by going to the WordPress dashboard and selecting 'Help' in the QSM plugin and our Support Guru will be able to help you.